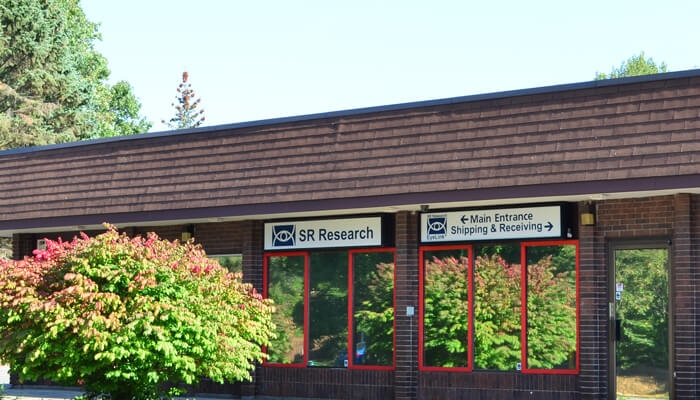 SR Research is a vibrant and exciting work environment, and we are always looking to recruit people with world-class talent that are interested in advancing the science of eye tracking. We are particularly interested in hearing from individuals with strong backgrounds in eye tracking research and eye tracking applications – from within academia or industry. Our R&D division is continuously recruiting in the areas of software and hardware development, and we are often looking to expand our team of Research Support Specialists. We also welcome inquiries from individuals who are familiar with eye tracking and have more general management / marketing experience.
If you are interested in working at SR Research, please feel free to send your CV to us at jobs@sr-research.com.
Job Profile
Research Support Specialist
SR Research is renowned for its outstanding support service, which has bases in North America and Europe. We are always on the look out for new team members. Working in the support team involves the following main responsibilities, but the job is incredibly varied and no two days are the same:
Conduct installation and training of EyeLink systems at customer sites
Work with our existing support team to provide email and phone support for users of the EyeLink eye tracking system and software, such as SR Research Experiment Builder and Data Viewer
Work with customers to implement experiments using the SR Research Experiment Builder and other programming interfaces
Perform software and hardware testing
Ideal support staff would have the following background:
A Master's or Ph. D. degree in Cognitive Psychology, Neuroscience, Cognitive Science, or related disciplines
Research experience in eye tracking, Cognitive Psychology or Psychophysics, and skill in experimental design
Strong technical skills
Experience using EyeLink eye tracking systems
Excellent communication skills
The position will include travel for installation and training of EyeLink systems at customer sites and for exhibitions at academic conferences
Position #683
Eye Tracking Data Analysis Software Developer
SR Research Ltd. is currently looking for an outstanding Software Developer with a strong command of Java, C/C++, and Machine Learning Algorithms to help develop new features of our existing data analysis products and to work on future products. The ideal candidate will have exceptional problem-solving abilities and a strong understanding of relevant protocols and user interface designs. The successful candidate will have the chance to participate in the entire life cycle of a range of eye tracking data analysis products, from design through implementation to launch.
Job Description
The successful candidate will:
Evaluate existing analysis approaches to eye tracking data across a range of academic disciplines
Develop advanced eye movement data analysis algorithms for a range of eye tracking research and clinical applications
Drive both high-level and detailed technical design documents and conduct design reviews
Provide feedback on architectural and implementation enhancements
Participate actively in team and company-wide architecture discussions
Employ technical expertise to help team members overcome technical problems
Implement new features to existing software applications using Java, C/C++, Python, and other frameworks.
Work with software developers to improve stimulus presentation software.
Job Requirements
SR Research provides a fun, open, social environment in which staff are given a high degree of autonomy. You must thrive in a fast-moving company and be able to adapt to change quickly. The successful applicant should possess the following qualifications:
A Masters or PhD degree in computer science or related technical fields.
At least 5 years experience with EyeLink eye trackers.
Research experience in the fields of Cognitive Psychology, Computer/Information Science.
Experience implementing Machine learning / Deep Learning algorithms for data analysis.
Experience with inferential statistics and analyzing large datasets of eye movement data.
Experience with Experiment Builder and Python stimulus presentation software packages.
Ability to self-organize and work effectively within a small team with minimal supervision.
Expert level Java, C/C++ skills are required, with demonstrated ability to solve complex problems.
Strong verbal and written communication skills are required due to the dynamic nature of team discussions.
This full-time, permanent position is located at 35 Beaufort Drive, Ottawa, Ontario, Canada K2L 2B9.
Salary will be very competitive, including a comprehensive benefits package.
Please send a cover letter and resume to jobs@sr-research.com if you believe you possess the above qualifications and are interested in this position.