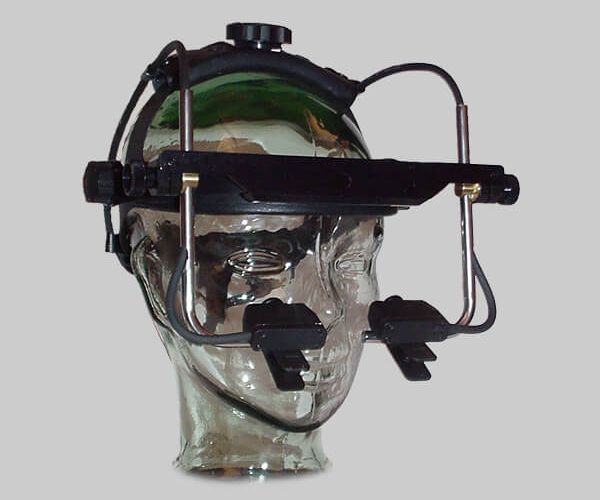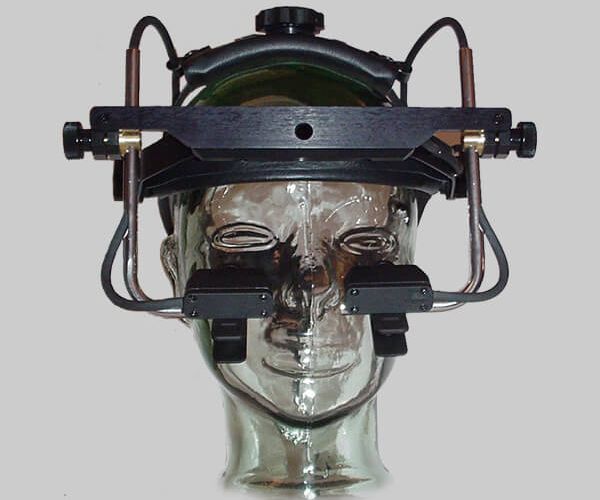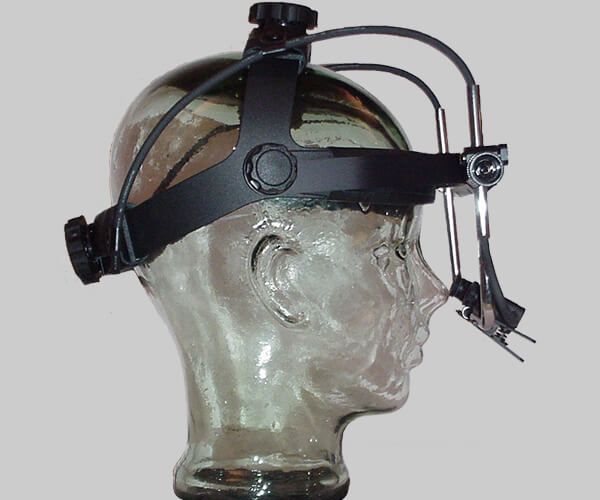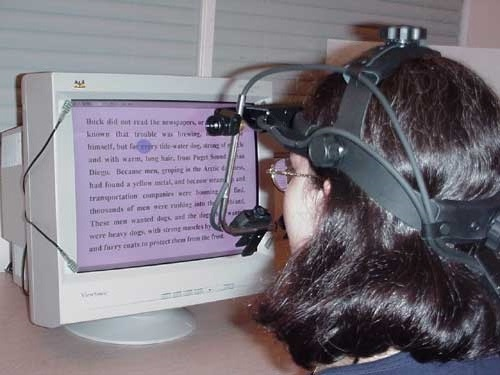 Head Mounted Video-Based Eye Tracker
The EyeLink II has the fastest data rate and highest resolution of any head mounted video-based eye tracker. This exceptional data quality results in very low-velocity noise, making the EyeLink II ideal for a wide range of eye tracking research. The EyeLink II has the following features:
Pupil + Corneal Reflection and Pupil only tracking modes.
500 Hz binocular eye tracking.
0.5º average accuracy.
0.01º resolution.
Access to eye position data with 3.0 msec delay.
High quality computer based or scene camera eye tracking.
Fast and simple participant setup, calibration, and validation.
With the addition of the EyeLink II Scene Camera option, the EyeLink II can also be used for real-world eye-tracking applications that are not tied to a computer monitor.
If you want to find out more about how the EyeLink II can help your eye-tracking research, get in touch or request a quote, and we will get back to you!
Features
Accessories
Support and Training
Software
Fast, accurate and reliable head-mounted eye tracking:
Three miniature cameras mounted on a comfortable padded headband.
No mirrors, making it very robust and easy to set up.
Two eye cameras, which allow binocular eye tracking or easy selection of the subject's dominant eye without any mechanical reconfiguration.
An optical head-tracking camera integrated into the headband, which allows accurate tracking of the subject's point of gaze without the need for a bite bar.
Includes a millisecond accurate response device.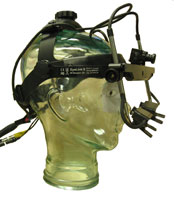 Scene-Camera
Gaze position is provided on video from a forward facing head-mounted camera.
The scene camera has a 250 Hz sampling rate.
It has excellent tolerance to external / varying light sources.
Binocular recording is used to correct for horizontal and vertical parallax errors when the participant is looking at non calibrated viewing distances.
Synchronized audio input support.
It has a compact / portable / battery powered Host-PC for research outside of the lab.
---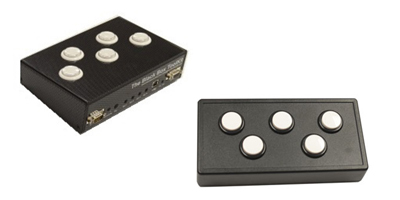 Response Devices
The Black Box ToolKit Response Pad (left) and the Millikey Button Box (right) are both millisecond accurate.
Each is recognized as a USB keyboard, so can be used with any operating system or programming approach.
Both have arcade-style buttons with clear caps that can be removed to place your own information beneath.
The Black Box ToolKit Response Pad is available in two different 5 button layouts (W and V).
---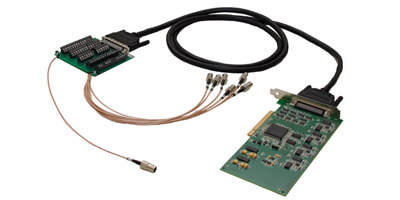 Analog Output
The Analog Output card is intended for research settings in which digital gaze data cannot be accessed over the ethernet link.
It provides analog output of X and Y position data and pupil size.
Data is updated every sample (up to 2000 Hz).
Programmable range between +/- 10 volts.
Analog breakout board with BNC connectors.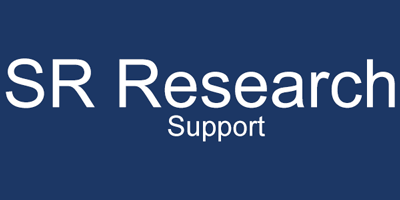 Technical Support
All EyeLink systems come with a lifetime of free technical support.
Support members include former faculty and Ph.D. graduates in Cognitive Neuroscience, Vision Science, Psycholinguistics and Experimental Psychology.
We have expertise in all aspects of eye-tracking research and outstanding technical knowledge of EyeLink hardware, software, and integration.
---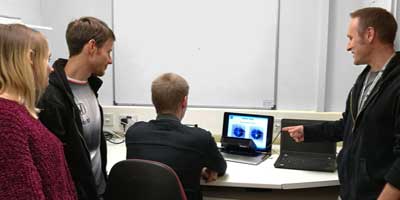 Onsite EyeLink Eye Tracker Installation and Training
We provide installation and commission of standard hardware.
Onsite software training is tailored to individual research goals.
You decide how large of an audience to include.
Cost covers all travel expenses to your site.
Contact us for a quote.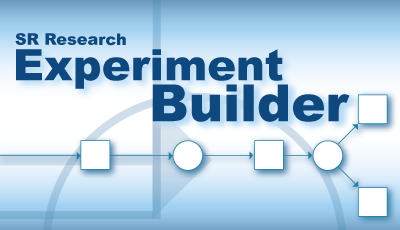 Experiment Builder is a sophisticated and intuitive graphical programming environment for creating computer-based psychology and neuroscience experiments.
It runs under Windows and macOS (OSX).
There are hundreds of existing templates that can be easily modified (e.g., change blindness, smooth pursuit, pro-saccade task, Stroop task, etc.).
---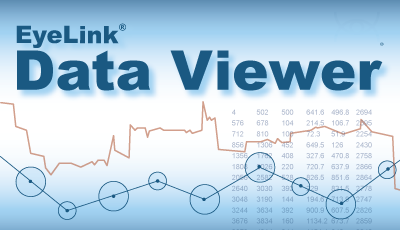 Data Viewer is powerful and intuitive software for viewing, filtering, and processing gaze data recorded with EyeLink eye trackers.
Use it to create static and dynamic interest areas, heatmaps, and output hundreds of dependent measures such as Dwell Time, Sacccade Onset, etc.
Data Viewer is highly integrated with SR Research Experiment Builder, E-Prime, Presentation and any custom programming method.
---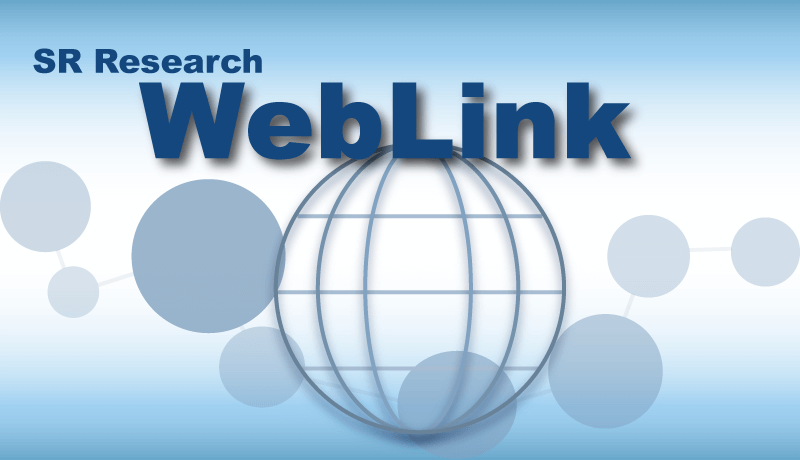 WebLink is a software solution that allows EyeLink users to track eye movements while participants view and interact with dynamic media such as websites, online games, and computer software.
Ideal for performing usability testing and also perfect for running simple "slideshow" experiments with image and video stimuli.
Compatible with all EyeLinks and Data Viewer.
---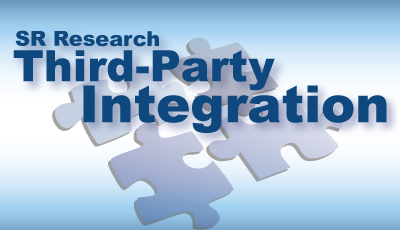 Easily add eye-tracking functionality to existing projects in E-Prime, Presentation, MATLAB and Psychtoolbox, and more.
Add eye tracking functionality to stimulus display programs written in Python, C, C#, and other programming languages.
Sycnhronize eye movement recording with MRI / EEG / fNIRS / TMS and other third-party hardware.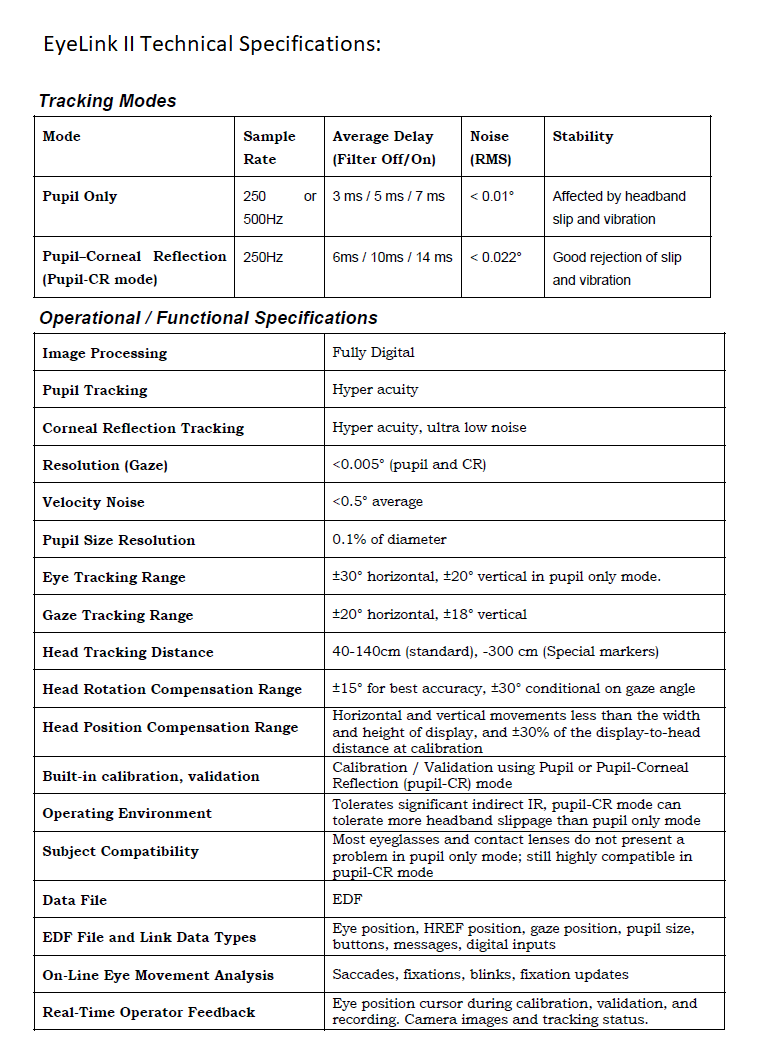 Technical Specifications