Estimated reading time: 3 minutes
We have recently finished updating our database of EyeLink publications – there were more than 900 papers published in 2019 alone, and the database now contains well over 8000 publications in total. Each publication is checked individually to ensure that it contains data collected using an EyeLink eye tracker (rather than just referring to data collected with an EyeLink, as in a meta-analysis or review article) and that the research is published in a peer-reviewed journal.
Publications by Year
In a previous blog I plotted the number of publications per year and an updated version of that plot is included below: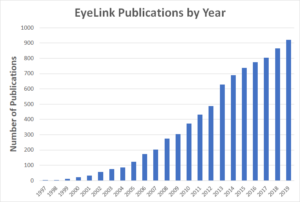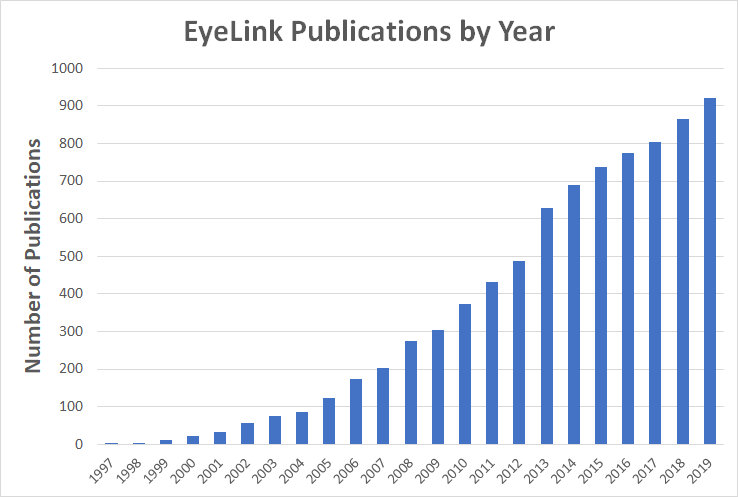 Highly Cited EyeLink Publications
The earlier blog also listed the "top" journals for EyeLink publications – both with respect to the number of EyeLink articles and with respect to the journal's impact factor. This year I thought it might be interesting to list some of the most highly cited articles in our database. Determining citation counts is a somewhat inexact science. There are three main sources of information on article citation counts – Web of Science, Scopus and Google Scholar. While the advantages and disadvantages of each of these sources is a topic of lively debate (Harzing has written extensively on this – see e.g. this blog), Google Scholar has the twin advantages of having a very comprehensive coverage and being freely accessible.
The list below is a selection of 15 EyeLink articles, all of which have citation counts >500 according to Google Scholar. The list was generated by searching the top 20 journals by volume of EyeLink articles, and the top 10 journals by Impact Factor in our database. It is not intended to be exhaustive, and the articles are listed in no particular order. I think the list provides a fascinating illustration of the sheer breadth (and enormous impact) of the research that EyeLink eye trackers have been involved in.
Effective schizophrenia recognition using discriminative eye movement features and model-metric based features Journal Article
In: Pattern Recognition Letters, 138 , pp. 608–616, 2020.
The timing of gaze-contingent decision prompts influences risky choice Journal Article
In: Cognition, 195 , pp. 1–11, 2020.
Target templates in singleton search vs. feature-based search modes Journal Article
In: Visual Cognition, 27 (5-8), pp. 502–517, 2019.
Attention combines similarly in covert and overt conditions Journal Article
In: Vision, 3 , pp. 16, 2019.
Angle of gaze and optic flow direction modulate body sway Journal Article
In: Journal of Electromyography and Kinesiology, 35 , pp. 61–68, 2017.
Saccade execution suppresses discrimination at distractor locations rather than enhancing the saccade goal location Journal Article
In: European Journal of Neuroscience, 41 (12), pp. 1624–1634, 2015.
Brain responses to world knowledge violations: A comparison of stimulus- and fixation-triggered event-related potentials and neural oscillations Journal Article
In: Journal of Cognitive Neuroscience, 27 (5), pp. 1017–1028, 2015.
Contrasting interference profiles for agreement and anaphora: Experimental and modeling evidence Journal Article
In: Journal of Memory and Language, 69 (2), pp. 85–103, 2013.
Eye movements, prosody, and word frequency among average-and high-skilled second-grade readers Journal Article
In: School Psychology Review, 42 (October), pp. 171–190, 2012.
Systematic influence of gaze position on pupil size measurement: Analysis and correction Journal Article
In: Behavior Research Methods, 43 (4), pp. 1171–1181, 2011.
The on-line processing of written irony Journal Article
In: Cognition, 116 (3), pp. 421–436, 2010.
Graded recognition as a function of the number of target fixations Journal Article
In: Vision Research, 50 (1), pp. 107–117, 2010.
The IOVP effect in mindless reading: Experiment and modeling Journal Article
In: Vision Research, 47 (7), pp. 990–1002, 2007.
Eye movements and serial memory for visual-spatial information: Does time spent fixating contribute to recall? Journal Article
In: Experimental Psychology, 54 (4), pp. 264–272, 2007.
Oculomotor correlates of context-guided learning in visual search Journal Article
In: Perception and Psychophysics, 66 (8), pp. 1363–1378, 2004.
Contact
If you would like us to feature your EyeLink research, have ideas for posts, or have any questions about our hardware and software, please contact us. We are always happy to help. You can call us (+1-613-271-8686) or click the button below to email:
Image Credits
Header Image by Hermann.
Read More