Estimated reading time: 3 minutes
We have recently finished updating our database of EyeLink publications – there were more than 900 papers published in 2019 alone, and the database now contains well over 8000 publications in total. Each publication is checked individually to ensure that it contains data collected using an EyeLink eye tracker (rather than just referring to data collected with an EyeLink, as in a meta-analysis or review article) and that the research is published in a peer-reviewed journal.
Publications by Year
In a previous blog I plotted the number of publications per year and an updated version of that plot is included below: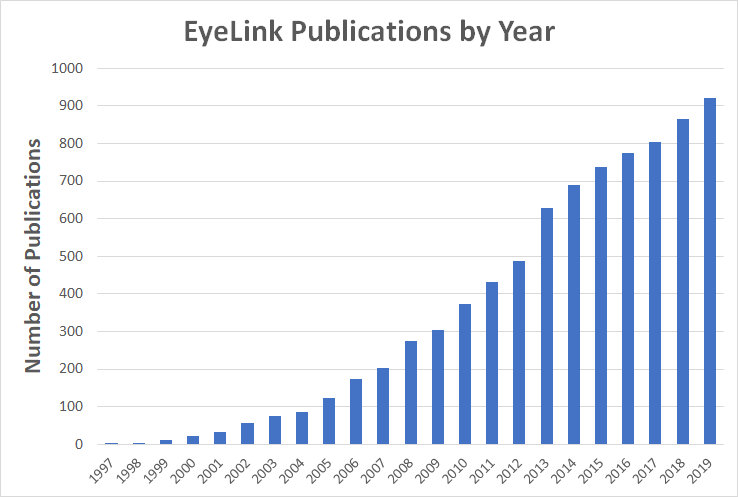 Highly Cited EyeLink Publications
The earlier blog also listed the "top" journals for EyeLink publications – both with respect to the number of EyeLink articles and with respect to the journal's impact factor. This year I thought it might be interesting to list some of the most highly cited articles in our database. Determining citation counts is a somewhat inexact science. There are three main sources of information on article citation counts – Web of Science, Scopus and Google Scholar. While the advantages and disadvantages of each of these sources is a topic of lively debate (Harzing has written extensively on this – see e.g. this blog), Google Scholar has the twin advantages of having a very comprehensive coverage and being freely accessible.
The list below is a selection of 15 EyeLink articles, all of which have citation counts >500 according to Google Scholar. The list was generated by searching the top 20 journals by volume of EyeLink articles, and the top 10 journals by Impact Factor in our database. It is not intended to be exhaustive, and the articles are listed in no particular order. I think the list provides a fascinating illustration of the sheer breadth (and enormous impact) of the research that EyeLink eye trackers have been involved in.
Influence of radial optic flow stimulation on static postural balance in Parkinson's disease: A preliminary study Journal Article
In: Human Movement Science, vol. 81, pp. 1–11, 2022.
Antisaccade task performance in obsessive-compulsive disorder and its clinical correlates Journal Article
In: Asian Journal of Psychiatry, vol. 57, pp. 102508, 2021.
Parallel distributed networks dissociate episodic and social functions within the individual Journal Article
In: Journal of Neurophysiology, vol. 123, no. 3, pp. 1144–1179, 2020.
Closed loop motor-sensory dynamics in human vision Journal Article
In: PLoS ONE, vol. 15, no. 10, pp. e0240660, 2020.
Spared and impaired sleep-dependent memory consolidation in schizophrenia Journal Article
In: Schizophrenia Research, vol. 199, pp. 83–89, 2018.
The visual number world: A dynamic approach to study the mathematical mind Journal Article
In: Quarterly Journal of Experimental Psychology, vol. 71, no. 1, pp. 28–36, 2018.
Contributions of reader- and text-level characteristics to eye-movement patterns during passage reading Journal Article
In: Journal of Experimental Psychology: Learning, Memory, and Cognition, vol. 44, no. 11, pp. 1687–1713, 2018.
An automated and objective cover test to measure heterophoria Journal Article
In: PLoS ONE, vol. 13, no. 11, pp. e0206674, 2018.
Visual sampling predicts hippocampal activity Journal Article
In: Journal of Neuroscience, vol. 37, no. 3, pp. 599–609, 2017.
Evaluating the influence of a fixated object's spatio-temporal properties on gaze control Journal Article
In: Attention, Perception, and Psychophysics, vol. 78, no. 4, pp. 996–1003, 2016.
Oculomotor capture by new and unannounced color singletons during visual search Journal Article
In: Attention, Perception, and Psychophysics, vol. 77, pp. 1529–1543, 2015.
Rethinking human visual attention: Spatial cueing effects and optimality of decisions by honeybees, monkeys and humans Journal Article
In: Vision Research, vol. 85, pp. 5–9, 2013.
The associative basis of cue-elicited drug taking in humans Journal Article
In: Psychopharmacology, vol. 208, no. 3, pp. 337–351, 2010.
Eye movements during information processing tasks: Individual differences and cultural effects Journal Article
In: Vision Research, vol. 47, no. 21, pp. 2714–2726, 2007.
Visual determinants of preferred adjective order Journal Article
In: Visual Cognition, vol. 14, no. 3, pp. 261–294, 2006.
Contact
If you would like us to feature your EyeLink research, have ideas for posts, or have any questions about our hardware and software, please contact us. We are always happy to help. You can call us (+1-613-271-8686) or click the button below to email:
Image Credits
Header Image by Hermann.
Read More